Roll over image to zoom in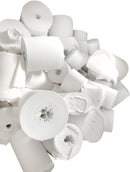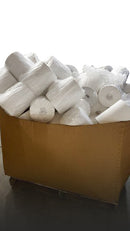 Description
If you'd like to discuss purchasing specific reject shop towel products, pallet quantities are available by request - email sales@discountshoptowels.com or contact our team directly. 
Looking for towels at a discount?  Look no further!  From time to time we offer up a miscellaneous stock of reject shop towels, roll towels, flat sheets, end cuts, and more.  All of these selections are imperfect, rejects, misfolded, mis-rolled, short sheets, etc.  The materials are all high quality and usable.  Colors will include blue, natural, white, red, and others.  Material types include DRC, Airlaid, hydroknit, water weave, Scrim, Proknit, and others.  Great for the weekend warrior or businesses looking to save money! 
We Sell By The Pound Only in 25# boxes or bulk
Due to the inconsistent nature of these rolls, we only sell by the pound to ensure fairness.
The average roll with 8-inch diameter and 10 inches tall weighs approximately 3-5 pounds.  We do our best to package what we have available in 25-pound boxes.
Inventory levels change quickly, available quantity updated on the website.  

Payment & Security
Your payment information is processed securely. We do not store credit card details nor have access to your credit card information.